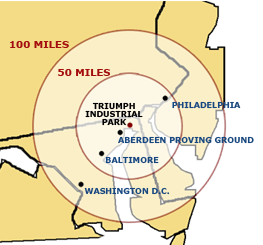 About Triumph's Unique Features
Along with the amenities listed below, Triumph Industrial Park offers a unique combination of qualities such as:
Strategically located midway between the Philadelphia and Baltimore Metropolitan areas at the head of the Chesapeake Bay.

Easy access to major transportation routes, including I-95.

A healthy corporate community of over 40 companies, with over a dozen subdivided parcels ready to develop.

Conveniently located near the historic town of Elkton Maryland, with access to dining and other facilities – a perfect location to support clients as well as employees.

Pleasant layout and natural surroundings of trees and fields

Aesthetically tasteful architecture.
Directions to Triumph Industrial Park
About Triumph's Amenities
Sites, Acreage
ZONED: M2 Industrial
90+/- acres, Flat to Sloped
1 to 10 acre parcels
Lease or Buy
We Build to suit!
Road System
New Road Surfaces throughout the Park
Communications Technology
Fiber Optic available
DSL and T1 available
Electricity
Natural Gas
Gas line Pressure:
50-psig summer
30-psig winter
City Water
Water Pressure 60 PSI
150,000 Gallon Water Tower
8″ water line infrastructure
950 gmp thru 2-1/2″ orifice at 56 psi
static, 32 psi residual pressure, indefinably, 30 gmp available on an average basis.
Design, Engineering, Business Support
Designers on Site with Engineer, Architect, and Expert Manufacturing Consultants
Aggressive cost cutting
Construction systems developed for Fortune 500 customers